Posted on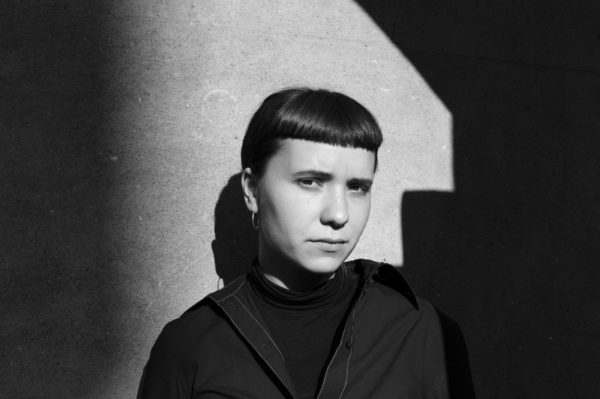 Astrid Sonne: 'Singing with other people is one of the most powerful things I know'
Astrid Sonne is a Copenhagen-based composer and viola player. With a background in classical music, she opens up an electronic space to channel various perceptions of sensory and emotional states of being through open, melodic compositions. Balancing contrasts is a recurring theme in Astrid Sonne's work, where alternation between repetition and renewal is used as a means of expression. Her compositions comprise everything from synthesizers to choir samples and viola sequences, surpassing genre definitions yet paying homage to the sources of inspiration, be it the Danish choir tradition or various noise soundscapes. She's playing at these SHAPE events in autumn: Skaņu Mežs at Riga's White Night'2019, Biennale Némo, Maintenant Festival, RIAM Festival, Insomnia Tromso.
You grew up on a small Danish island called Bornholm in the Baltic Sea, and started your music education there. Bornholm is also a designated World Craft Region, with a tradition of various crafts and trades. It was also occupied by both the Russians and the Germans during WWII. How has Bornholm formed you in terms of your creativity, music and beyond?
Growing up on Bornholm has formed me in several ways. One thing is the island itself, another the specific place I grew up in. The neighbours closest to us were maybe 2 km away so I would spend most of my time alone, strolling around, which I've always enjoyed. That being said, I was terribly bored living on Bornholm. It's a holiday destination for many Danes and Germans so there would always be two versions of the island: summertime and wintertime, where summertime was carefree and fun and the winters long, cold and extra boring. I found that it was a good place to immerse myself and concentrate on playing music, which I did most of the time. I also did a lot of circus there but that's a whole different story.
Bornholm is rich in nature and I grew up by the sea so I have a really strong attachment to nature and miss it a lot in Copenhagen. The feeling of community and social cohesion was also really important for me and my musical upbringing. The small music school that I went to was not orientated towards either "classical" or "non-classical" music so it was only when I moved away from Bornholm at the age of 15 that I realised how divided the music world was, and that was kind of a big shock to me because I hadn't thought about it like that before.
Choral singing is embedded in your work. You sang in a church choir and were introduced to various choral traditions. How has this interplay between space, spirituality and voice influenced you?
It's really a cliché but to sing is the most natural thing for me to do; it's an important outlet for me to have. Singing with other people is one of the most powerful things I know. When it all comes together it can be an out-of-body experience. Choir music, especially a cappella, has always appealed to me. The simplicity in orchestration, the fact that you're only dealing with one instrument but at the same time it sounds like an orchestra because the voice is so complex. I love it. After singing in church for about eight years, I learned a lot about rituals and how important they are for us. I'm not religious at all but I love being in church and reflecting.
You've created site-specific installations, for instance for the old ruins under the Danish Parliament, Copenhagen metro and a piece for choir electronics at Berlin Atonal. Can you talk about these projects and how you worked with the environment/music in each particular case?
The ruins under Christiansborg project was very much focused on atmosphere. The space is truly special and you could really sense the breadth of history in there so I didn't want to take up too much focus with the music, I'd rather create a tactile soundscape bringing something new to the historical scenery.
The piece I made for the Copenhagen metro was inspired by the curves of the city with its junctions and detours. I took a ride (from Vanlese St. to CPH airport) and recorded the trip, then I analysed the waveform and built up my set around it, so things would peak in the middle of the set because we were at Nerreport, which is the busiest station in Copenhagen etc. The waveform worked as the overall frame and the composed material took inspiration from the tempo shifts from the metro.
My piece for Atonal was called Ephemeral, which means something that lasts for a very short time. My intention was to create a piece inspired by our interpretation of time, the abstraction of the concept, linearity and quantum physics… I wanted to create a piece that embodied all the things that I've been focused on in the past and give them redefined intentions, make a small choir together with dear friends and play the viola however I wanted to.
What is your relationship with the viola now, after years of playing it?
It's getting worse and worse because I don't practice at all, haha. I think it comes in waves. I have periods where I play a lot and work closely with the instrument and then periods of not touching it at all. Years ago I would really miss it if I hadn't played for a week but now I work with music in so many different ways that it has replaced that need.
You've mentioned in an interview: 'For me, it's more about the distinction between a compositional process which is based on randomness and one that is structured and controlled.' Can you talk about this dichotomy?
For me it's a balance and something that evolves constantly. But the way I compose is and has always been based on different forms of experimentation until I feel that I have found something and then my process becomes more structured and controlled.
You've also talked about the sort of unexpected success of your first release, which is interesting as one can never know how the world will react to one's work. It can change one's life.
Yes, and I think to some extent it did. I feel very privileged and thankful.
You've collaborated with other musicians as well. What is your favourite collaboration and do you have a dream one?
Uh, my favourite collaboration? I'm not sure if I can mention only one, but in general, I like collaborations where those involved have high ambitions and are willing to go all the way to get their ideas out. I also really like collaborations where the focus is more on the process than the product although I have a hard time working that way since I tend to be very focused on end-products. Dream collaboration: Pelle Gudmundsen-Holmgreen.
What are your current and upcoming projects?
I'm working on new music and taking my time over it so that's really nice. Then I'm playing shows in between and am going to do smaller projects in Denmark. I have two projects in the making but I can't really talk about it before it's 100 per cent certain, but it's all going to be very exciting and new.
What made you happy / sad recently?
Two good friends getting married, reading and swimming, late summer days, the stars in August. // Some of my friends are having a really hard time at the moment.
Photo: Daniel Hjorth
Interview: Lucia Udvardyova