Posted on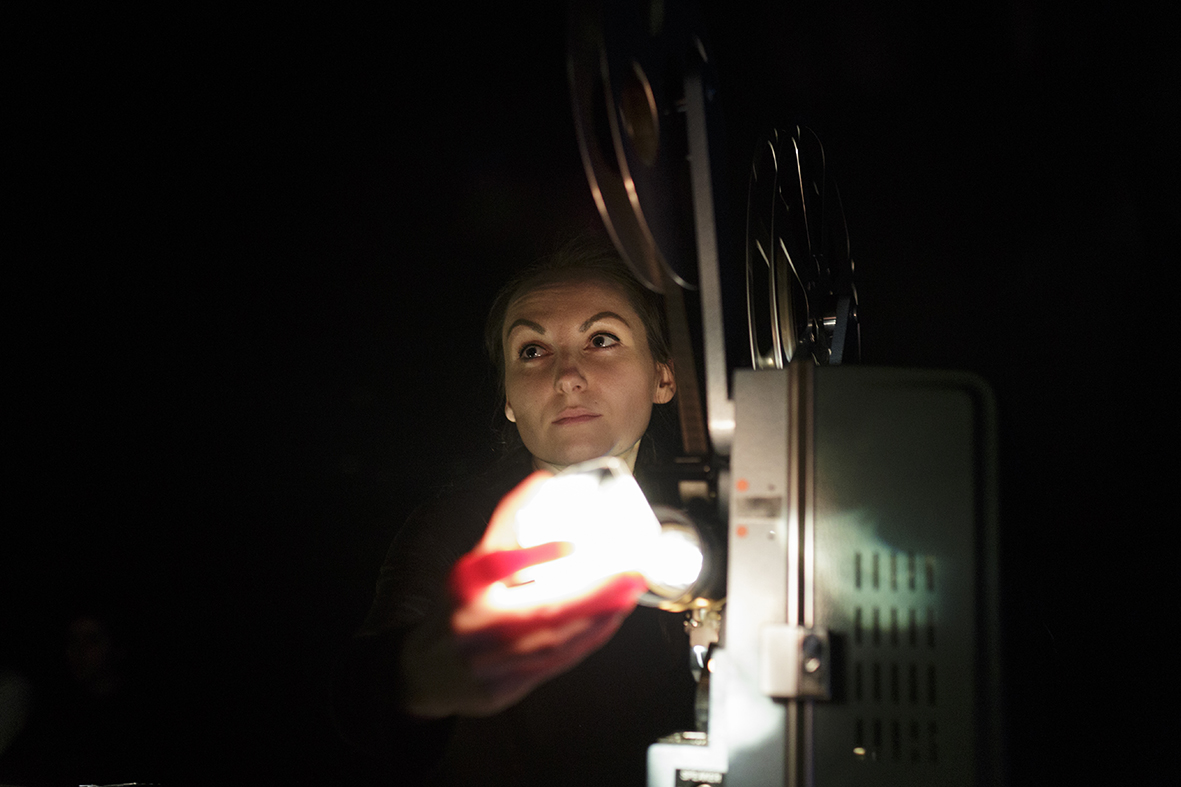 On Saturday, 17 June at 20:00, NOASS Arts Centre on AB dambis will host a concert by Bulgarian violinist, improviser and contemporary music interpreter Biliana Voutchkova, which will showcase her collaboration with Latvian analog cinema artist Ieva Balode. Voutchkova will be joined by Estonian-German-American music duo Bad Groupy.
Since last autumn, Biliana Voutchkova, who is a regular guest at the experimental music festival Skaņu mežs, has been working on an audiovisual work It took a long time for it to open its leaves in collaboration with Ieva Balode.
Ieva Balode is an artist and activist, who works with photochemical film and images. She heads the artists' collective Baltic Analog Lab, which offers space and a platform for creating, researching and teaching photochemical imagery, and organises the experimental film festival Process. In this brief interview, Ieva Balode outlines what we can look forward to on Saturday evening.
How did your collaboration with Biliana Voutchkova begin?
In the autumn of 2022 Skaņu mežs organizer Viestarts Gailītis proposed that I should collaborate with Biliana Voutchkova and sent me her recordings. Initially, when I heard her playing the violin, I was sceptical, because the violin is not an instrument that I've ever felt was close to my heart. However, after listening to Biliana play, I was pleasantly surprised – it was an atypical and unusual approach to playing the violin, in which she engages her voice, and this appealed to me. I trust Viestarts and Skaņu mežs, because I like the festival, I'm interested in experimental music and I enjoy collaborating with musicians of this ilk. Although I'm mostly busy running Baltic Analog Lab, I was interested in this collaborative work as a commission from Skaņu mežs and Shape +. It was an exciting challenge!
Later that autumn, I met Biliana and we tossed about some ideas about the message we'd like to come from collaboration. Viestarts had given us complete freedom. We talked about what was currently going on in our lives, and what we were thinking about. We realized that what we had in common was our mutual interest in human psychology, psychic states, poetics and witchcraft which bonds us as women. Continuing our correspondence by e-mail, we agreed that our work could be about transformation as a natural process in the physical and mental nature of people.
On my part, the visual material is an oak tree that I've filmed for a long time. I filmed it from winter to summer on a Bolex camera and on 16 millimetre cinema film, using an intervalometer (a device that measures short intervals of time). I processed the material using various film developing and processing techniques and it will be screened using several 16 mm cinema projectors. This transformation in nature can also relate to human life and its continual transformations. We filmed the remainder of the frames with the oak tree in summer together with Biliana. The tree is located at my place in the countryside. Biliana recorded different sounds of nature there and recorded the mechanical sound of my editing table. So the audience will sense, hear and see both nature and instrumental mechanics in our performance. Biliana has already recorded some of the compositions and she will improvise the rest on her violin.
This work was created under the umbrella of the SHAPE+ platform's creative residency. In order for this kind of collaboration to succeed, what are the key factors for you?
There's no single formula for successful collaborations. Usually, successful collaborations result from the artists' deciding to work with one another. In this case, we teamed up "blind" – Viestarts knew what we were both capable of. We both said, "Yes!" before we'd even met. For the most part, artists are quite open people. In organising events, I have matched artists with poets and musicians. Initially, they may sense some resistance, and ask themselves – how can I collaborate with her? But once they meet and start work, they tend to find a new creative vision that ultimately allows them to expand together. In our case, it was a similar story – we both had creative drive. I had a good sense of how open Biliana was. She came to my studio, saw the editing table and the spools of 16 mm film, and decided to use sound loops in our performance. It's different when two people meet who have their own preoccupations and are not willing to budge an inch, left or right. In our case, our interest in the world and in the other person was decisive.
Also performing on Saturday evening will be Estonian-German-American music duo Bad Groupy comprised of Jeff Surak and Kris Kuldkepp. The duo create sounds using contact microphones, egg whisks, Walkmans, copper poles and double bass, mutating everyday noises into different free improvisation aesthetics. For several years now, Jeff Surak has curated the Sonic Circuits festival and led the Zeromoon publishing house. Kris Kuldkepp has performed at festivals including JAUNA MUZIKA, StimmeX, Blurred Edges Festival and Piksel.
The organisers of the concert on 17 June are Skaņu mežs and SHAPE+, an innovative music platform supported by the European Union. Ticket can be purchased at the entrance.
Text by Aiga Leitholde. Photo by Andrejs Strokins.